Some might call Lucas Giolito's shutout of the Astros on May 23 his masterpiece.
And now it is literally a work of art, thanks to his mom, Lindsay Frost, a former actor who has become famous in baseball circles for her oil paintings.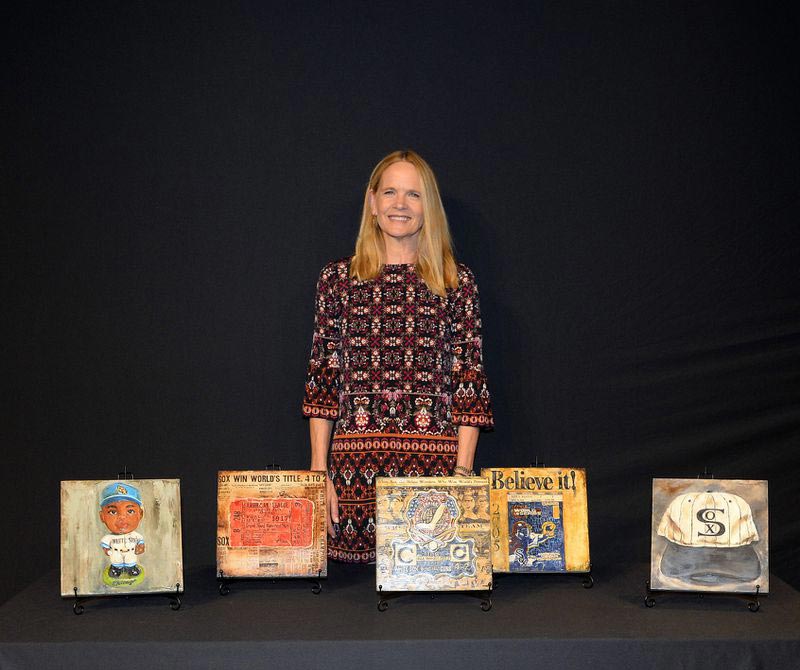 James McCann, who caught Giolito that night in Houston, asked Frost to immortalize that moment as a keepsake.
But the original is going to Giolito.
"As it was progressing, he decided he wanted for his man cave," Frost said. "So I'm doing another one for McCann."
"I got a little selfish," Giolito said. "When you look at the composition of the painting, James' back is turned and you can't even see his face at all, and it's mostly, like, me. So I thought it would be better suited for me to keep that."
McCann said he's looking through other game pictures for Frost to capture on canvas but wants to find one of himself with Giolito in it too, "just because his mom's doing it, and the relationship that we've built this year."
He saw an early version of the first painting. "It was pretty impressive," McCann said.
He's not alone. About two months ago, the Sox commissioned Frost to depict five moments and figures from team history on canvas, which they revealed this week and plan to auction for charity at the end of season. The works include interpretations of the Sox's three World Series championships, a 1917 cap and a vintage bobblehead from 1962.
"I usually do quite bit of research before I go into these things," she said. "We just tried to give a broad idea of iconic images that spoke to the White Sox and their history."
Frost has done works for other teams, as well as art galleries, a second career she built from scratch.
'I gave myself the permission to do it'.
Frost is the daughter of actor Warren Frost and sister of "Twin Peaks" co-creator Mark Frost.
Over 26 years, she has starred in the soap "As the World Turns," had recurring roles in "Mancuso, FBI" and "Crossing Jordan," and played Elizabeth Smart's mother, Lois, in "The Elizabeth Smart Story." She also had parts in "The Ring" and "Collateral Damage"
"Had a nice long run, but I felt at some point I was dissatisfied, I was frustrated, I was getting a little bored," she said. "It's a difficult life when you have children (sons Lucas and Casey) because you're constantly on the road or you're gone for long periods of time."
But she always had two interests: art and baseball. Frost had considered art school before going to drama school, and she comes from a family of baseball fans.
"That was instilled in by her father, my grandfather," Giolito said. "He was a big Red Sox fan growing up. She grew a big baseball fan, my dad grew up a baseball fan, they got married, I became a baseball player, so she immediately got attracted to sports painting, specifically baseball. It went from there."
During her transition from actor to artist, she also was raising a baseball player.
"I was at the field constantly, I mean that was my life: in the bleachers, on the field, driving to a field, going to a game, I would sit in the car and sketch when Lucas was at practice or his little brother was at practice, so it just sort of took over," Frost said.
She coins her style as "expressalism," which she defines as "expressionistic realism."
"The passion, it ignited something in me that I had lost in my other profession."
She took classes and entered works in local art fairs and people started requesting commissions.
"When Lucas was drafted (in 2012 by the Nationals), I had done a painting for my husband of the Nationals hat, and everyone loved it," she said. "And then people would start asking me, 'Well, can I have the Red Sox hat or could I have a Yankees hat?'
"I said (to myself), 'Man, you should do all 30.' I just did, I just kind of set out a goal to do all 30."
During that period, Frost made up her mind to try to become a professional artist, and set a deadline of five years to reach that goal.
"It came at time I was watching my sons grow up and finding themselves and following their passions": Lucas with baseball and Casey with acting.
"It inspired me. It helped me to decide that, yes, this my path now and I'm going to go down it. They're doing it and I can do it too. They have been tremendously supportive."
Frost's big break
Frost painted the caps of all 30 teams and sent six of the paintings to an art show in Hoboken, N.J.
It took a few years, but buzz about the hats drew the attention of Daniel Crosby, the president of The Art of the Game gallery, which is featured in the Dodgers' and Angels' ballparks, and the Staples Center.
"He loved the whole concept," she said. "They took me on."
The 30-hats collection, displayed at Dodger Stadium, became her signature piece.
"That's kind of put her on the map," Giolito said.
Frost added: "The day that they debuted (in August 2015, if memory serves) was day the Nationals were in Dodger Stadium. … I think (Lucas) might have been in A ball at that point. That was a very exciting night for me to see my dreams realized."
She did more work — baseball caps, bobbleheads, players, memorabilia — for L.A.'s baseball teams as well as the Lakers and Kings.
"That was all on her own," Giolito said.
Different fields, but the same mentality
Frost and Giolito agree, while they have an appreciation for each other's work, Frost couldn't fathom playing sports and Giolito acknowledges he doesn't have an artistic bone in his body.
"When I was in Chicago for Mother's Day weekend (earlier this season), they did a wonderful pregame ceremony with the mothers throwing out the first pitch," Frost said. "I was out there on field with him. … We're standing on mound, and I'm looking around at that stadium. For first time I get the sense of, wow, you are on stage. 'This is your stage,' I said to him. 'I couldn't imagine standing up here and doing what you do.' "
As for Giolito, actor's looks don't make for actor's chops.
Frost recalled: "Sometimes in spring training, they'll do skits. He had kind of a bad experience doing one a couple years ago, forgetting all his lines and panicking and sweating. But he's very good at just being himself. He's very comfortable being on camera."
"It's true" about the acting, said Giolito, who used to help his mom by reading lines. "It's something about memorizing lines and having to emote and doing it right.
"What I do for a living, it's on paper. I look at this (stats sheet) and it's like I had a good game yesterday. I gave up two runs in six innings and struck out 13. With acting, yeah, you can be good, but that's some people's opinion, and other people might not think that you're good."
Still, he admires how she maintained an acting career while supporting his baseball pursuits and Casey's acting aspirations — he's set to graduate from the Royal Welsh College of Music & Drama next year.
"What's cool about my mom is she's never satisfied," Lucas Giolito said. "I think I got that from her: Never being satisfied with what you have and what you've accomplished. You always want to keep getting better and keep improving, earn higher and higher achievements.
"She wants to keep painting, just like for me, I'm never satisfied on the field."